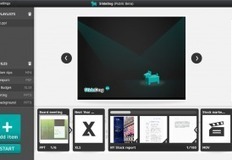 Robin Good: SlideDog is a Windows PC-only downloadable software which allows you to assemble a seamless slideshow that is made up by multiple presentations as well as from files coming from different apps, including PDFs, videos and images.
With SlideDog you can use playlists to play multiple slide shows one after the other. You can also add other files and media such as videos, web pages, Presi presentations, spreadsheets and documents. A playlist can also be saved to disk for easy playback at a later time.
Key features:
1) Support for PowerPoints, PDFs, videos, Prezi presentations, web pages, excel spreadsheets, word documents, flash animations and images.
2) SlideDog plays the files included in the playlist by using the most appropriate tools available. Some of the files will be played directly by SlideDog, while others will be played through an external application such as PowerPoint or the PowerPoint Viewer, though it will seem to viewers as all these files are played by one application. To achieve this SlideDog launches the files in the playlist in fullscreen without displaying the computer desktop or application specific loading screens to the viewers.
3) SlideDog uses a PowerPoint like multi-monitor output to provide meta information to the speaker during the presentation. It is able to show a normal presentation window on one screen, while showing an overview on the other one providing information like thumbnails of the next slides, slide notes and timers.
Free to download.
More info: http://slidedog.com/