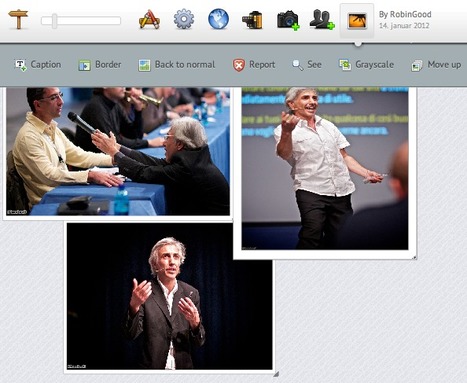 CanvasDropr provides a virtually infinite online canvas on which you and your friends / contacts can easily add, position, resize and rotate photos and video clips at will.

CanvasDropr can be used to brainstorm around visual collections, to select and organize images, and to prepare visual portfolios or tours to share with others or to be published online.
From the official site: "The center of the CanvasDropr idea is to work and collaborate on a so-called "Canvas".
The canvas can be shared by an unlimited amount of people, and changes made in the canvas are updated real-time in every user's canvas.
Users can easily drag and drop new images directly from their desktop onto the canvas."
CanvasDrops allows you to text chat in real-time with other "collaborators" you have invited as well as to set permissions for what "public" users can edit or modify on a "public canvas.
It is possible to place photos and video clips coming from Facebook, YouTube, Flickr and Picasa or to import one simply by providing its URL.
The final canvas can be shared on FB or Twitter, downloaded as an "image" or a .zip file containing all of its images and can also be "embedded" on any site or blog.
The service is free to use.
Check this video: http://vimeo.com/31591478

Find out more: http://www.canvasdropr.com/
or you can try it immediately with no need for signup if you alrady have a Twitter or facebook account: http://www.canvasdropr.com/Signup.aspx