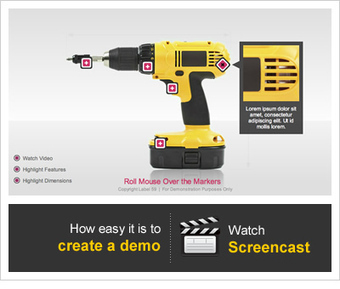 Robin Good: Label59 is a web app which allows you to create visuals with interactive info and links to highlight a physical product key features.
You basically select hot-spots on an image of a product, and then go after providing specific content for each one.
See an array of examples of what you can do here: http://www.label59.com/features.htm
The following "publishing" options are available for your finished product:
- Direct Link
- Email
- Embed Code (for embedding the demo in your webpage)
- Download as ZIP Folder
- Save as Image (JPG | PNG)
As you publish your demo, a direct link (hosted on Label 59 cloud)
is instantly generated. You can also download a ZIP folder
containing all the related files (requires Credits or a Premium
Plan).
Wtach a demo video: http://www.label59.com/screencast.htm
Pricing: http://www.label59.com/pricing.htm
More info: http://www.label59.com/